Veröffentlicht
November 1983
Publisher
Atari, Inc.
Entwickler
Dave Staugas
Code
CX2682
Genre
Arcade/Fantasy
Medium
Steckmodul
Controller
Joystick
Spieler
1
Wertung
6.9/10
✰✰✰✰✰✰✰✰✰✰
Boxtext
---
Travel to a distant galaxy, and to a planet called KRULL! Help Prince Colwyn battle the hideous Beast and his dark army of Slayers. Armed with the weapon of a king – the magical Glaive – you must survive the Slayers' neon spears, pass through the lair of the Widow of the Web, and fight the Beast in his own castle. Rescue Princess Lyssa, and the galaxy is yours!
---
Trivia
---
Krull basiert auf dem gleichnamigen britisch-amerikanischen Fantasyfilm aus dem Jahr 1983 mit Ken Marshall und Lysette Anthony in den Hauptrollen.

Ursprünglich war geplant, das Spiel auf der Konsole 5200 zu veröffentlichen – da die Verkaufszahlen dieser Konsole aber weit hinter den Erwartungen zurückblieben, entschied man sich für die 2600 als Plattform.
---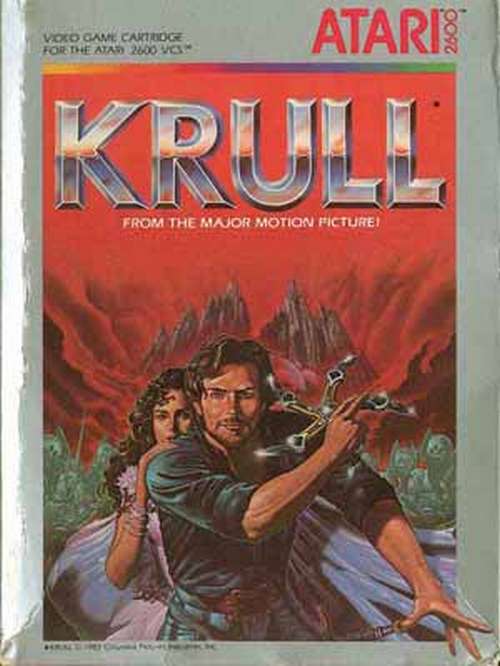 Weitere Versionen
---
▶ Krull (Atari 2600, Artkaris)
▶ Krull (Atari 2600, Atari Mania)
▶ Krull (Atari 2600, Canal 3/Intellivision)
▶ Krull (Atari 2600, Cello's)
▶ Krull (Atari 2600, DataSoft Software)
▶ Krull (Atari 2600, Digimax)
▶ Krull (Atari 2600, Digivision)
▶ Krull (Atari 2600, Dinamivision)
▶ Krull (Atari 2600, Dynacom)
▶ Krull (Atari 2600, EDU Games)
▶ Krull (Atari 2600, Galaxi)
▶ Krull (Atari 2600, Imagic Videogame)
▶ Krull (Atari 2600, Joystik)
▶ Krull (Atari 2600, JVP)
▶ Krull (Atari 2600, Rentacom – Game Action)
▶ Krull (Atari 2600, VGS)
---