Veröffentlicht
Oktober 1987
Publisher
Atari Corporation
Entwickler
Douglas E. Smith
Code
RX8082
Genre
Arcade
Medium
Steckmodul
Controller
Joystick, Tastatur
Spieler
1
Wertung
7.7/10
✰✰✰✰✰✰✰✰✰✰
Systemanforderungen
• 48 kB RAM
Boxtext
---
Blast through the enemy stronghold to recover the gold!

You are a highly trained Galactic commando deep in enemy territory. Power-hungry leaders of the repressive Bungeling Empire have stolen a fortune in gold from the peace-loving Galactans. You've just discovered the enemy's secret underground treasure hoard. Your mission: Infiltrate each of the 75 different subterranean levels, evade the Bungeling guards, and recover every last batch of Bungeling booty.

Run, jump, climb, and blaze your way through mazelike catacombs. You must recover all of the gold. Some of it is hidden in walled-over rooms and dangerous dead-ends or invisibly carried by the guards.

Your only defense is your laser drill pistol. Trap the Bungeling guards in freshly-drilled pits and force them to surrender any gold chests they protect. Don't get trapped yourself! Collect all of the gold in a level, then advance towards the surface and freedom!

You'll never run out of imaginative and cunning adventures, because built into Lode Runner's unique program is an option that lets you create your own fascinating challenges. You can actually build your own puzzles and scenes. No programming knowledge is required.
---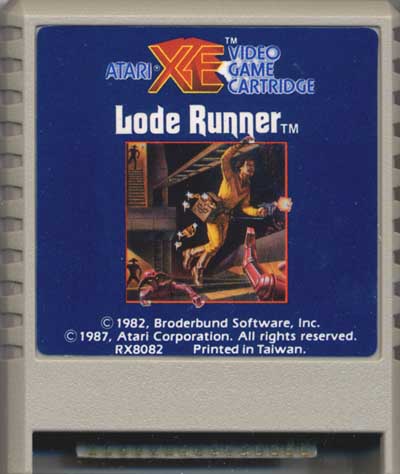 Weitere Versionen
---
▶ Lode Runner (Acorn BBC Micro/Electron, Software Projects)
▶ Lode Runner (Amstrad/Schneider CPC, Brøderbund Software)
▶ Lode Runner (Apple II, Brøderbund Software)
▶ Lode Runner (Apple Macintosh, Brøderbund Software)
▶ Lode Runner (Arcadespiel, Irem)
▶ Lode Runner (Atari ST, Brøderbund Software)
▶ Lode Runner (Commodore 64, Ariolasoft UK)
▶ Lode Runner (Commodore 64, Brøderbund Software)
▶ Lode Runner (Commodore VC 20, Brøderbund Software)
▶ Lode Runner (J2ME, Living Mobile)
▶ Lode Runner (MSX, Sony)
▶ Lode Runner (Nintendo Entertainment System, Brøderbund Software)
▶ Lode Runner (Nintendo Wii, Hudson Entertainment)
▶ Lode Runner (Nintendo Wii U, Konami Digital Entertainment)
▶ Lode Runner (PC: MS-DOS, Brøderbund Software)
▶ Lode Runner (Sinclair ZX Spectrum, Software Projects)
▶ Lode Runner Classic (Android, Tozai)
▶ Lode Runner Classic (Apple iPhone, Tozai)
▶ Lode Runner Classic (Windows Phone, Tozai/Microsoft Studios)
▶ ロードランナー (Rōdo rannā) (Bandai WonderSwan, Banpresto)
▶ ロードランナー (Rōdo rannā) (Fujitsu FM-7, Soft Pro International)
▶ ロードランナー (Rōdo rannā) (NEC PC-88, SystemSoft)
▶ ロードランナー (Rōdo rannā) (NEC PC-98, SystemSoft)
▶ ロードランナー (Rōdo rannā) (NEC PC-6001, SystemSoft)
▶ ロードランナー (Rōdo rannā) (NEC PC-8000, SystemSoft)
▶ ロードランナー (Rōdo rannā) (Nintendo Famicom, Hudson Soft Company)
▶ ロードランナー (Rōdo rannā) (Nintendo Wii, Hudson Soft Company)
▶ ロードランナー (Rōdo rannā) (Nintendo Wii U, Konami Digital Entertainment Co.)
▶ ロードランナー (Rōdo rannā) (Sega SG-1000, Sega Enterprises)
▶ ロードランナー (Rōdo rannā) (Sharp X1, Apollo Technica)
---