Veröffentlicht
Juli 1984
Publisher
Atari Corporation
Entwickler
Scott Smith
Mimi Nyden
Robert Vieira
Code
CX26127
Genre
Adventure
Medium
Steckmodul
Controller
Joystick
Spieler
1–2
Wertung
7.0 / 10
✰✰✰✰✰✰✰✰✰✰
Boxtext
---
The pet with a split personality!

This cute little fellow looks like the ideal pet, right? Wrong! As a Mogwai, he's sweet and cuddly. But just feed him after midnight and watch him turn into a Gremlin – otherwise known as a monster! Not since Dr. Jeckyll and Mr. Hyde has there been such a charming/dangerous character. Or is that characters?

• 8 captivating game levels!
• Filled with flash and fury!
• Easy play level for beginners
• For one or two players

A game with more personalities than you want to meet!
---
Trivia
---
Das Spiel war eigentlich zur Veröffentlichung im Sommer 1984 geplant, allerdings kam der Split der Atari Inc. dazwischen. Außerdem gab es Lieferschwierigkeiten bei einem Zulieferer, so dass die Veröffentlichung letztendlich verschoben werden musste.

Zusammen mit Stargate und Track & Field gehört Gremlins zu den ersten Videospielen, die von der 1984 neu gegründeten Atari Corporation unter Leitung der Tramiels erschienen.

Gremlins basiert auf dem gleichnamigen Spielfilm mit Zach Galligan in der Hauptrolle. Der Film lief 1984 in den Kinos und erhielt 1990 mit Gremlins 2 – Die Rückkehr der kleinen Monster eine Fortsetzung.
---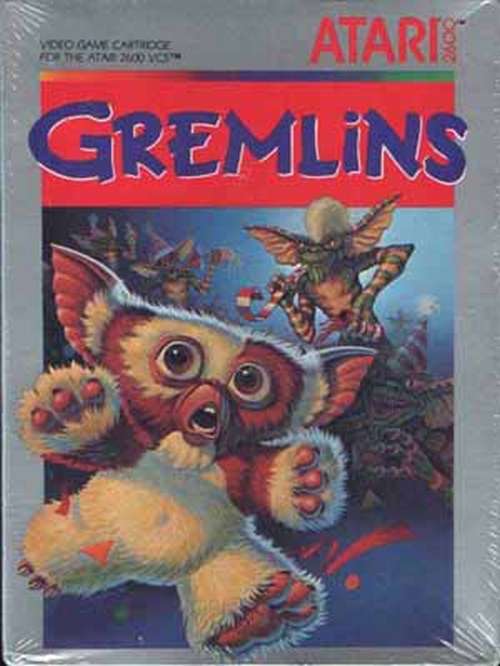 Weitere Versionen
---
▶ Greemlins (Atari 2600, EDU Games)
▶ Gremlins (Arcadespiel, Atari)
▶ Gremlins (Apple II, Atarisoft)
▶ Gremlins (Atari 2600, Atari Mania)
▶ Gremlins (Atari 2600, Canal 3/Intellivision)
▶ Gremlins (Atari 2600, Digitel)
▶ Gremlins (Atari 2600, Galaxi)
▶ Gremlins (Atari 2600, VGS)
▶ Gremlins (Atari 2600, Videomac)
▶ Gremlins (Atari 2600, Videospot)
▶ Gremlins (Atari 5200, Atari)
▶ Gremlins (Atari XL/XE, Atari)
▶ Gremlins (Commodore 64, Atarisoft)
▶ Gremlins (IBM PC, Atarisoft)
---