Veröffentlicht
29. April 1975
Entwicklerfirma
Atari
Vertriebsfirma
Atari
Spielnummer
Designer
Programmierer
Komposition
Sideart
Genre
Rennspiel
Steuerung
Lenkrad, Schalthebel (2 Stufen), Pedal
Spieler
1–2 (abwechselnd)
Prozessor
Audio
Mono
Video
Rasterbildschirm, S/W
Bauformen
Sitdown
Arcadesystem
–
Abmessungen H×B×T
139,7 × 81,92 × 187,33 cm
Produktion
Anmerkungen
In Frankreich wurde das Spiel unter der alternativen Schreibweise Highway vertrieben.
Wertung KLOV/IAM
k.A./5
✰✰✰✰✰✰✰✰✰✰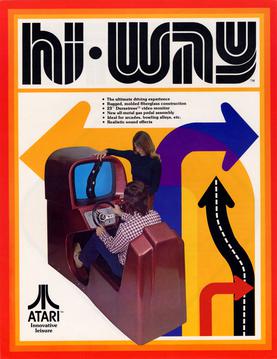 Beschreibung / Werbetext (englisch)
---
Go out in the traffic and play! Hi-Way is a completely new generation in driving games. Designed for spectacular realism, Hi-Way puts your players literally in the driver's seat in the middle of speeding traffic.
Watch the road! Your skill and nerve is challenged every second. You climb in, your quarter fires it up. You step on the gas… excitement builds higher and higher as you fight to keep your car on the road (which is constantly moving every-which way under your wheels!) and avoid crashing head-on into traffic as you try to pass slower cars.
You're driving against the clock (it's operator adhustable) to pile up as many miles as possible, so you have to be sharp … and quick! Look out for that curve!
Shut down the competitors! You have a winning set of wheels with Hi-Way. Indestructible molded fiberglass chassis, detachable "bucket" seat, reliable Durastress® tested solid state circuits and monitor, and all-metal gas pedal make you king of the road.
Ideal for arcade play, bowling alleys – you name it. Hi-Way's a profit winner any way you look at it.
---