Veröffentlicht
Mai 1979
Publisher
Atari, Inc.
Entwickler
Atari, Inc.
Code
188
Genre
Sport – Basketball
Steuerung
Trackballs
Spieler
1–2 (gleichzeitig)
Prozessor
Audio
Mono
Video
23″ Rasterbildschirm schwarz/weiß, horizontal
Bauformen
Upright (#18800)
Arcadesystem
–
Abmessungen H×B×T
Upright: 178,3×75×200,2 cm
Produktion
Wertung KLOV/IAM
1.00/5
✰✰✰✰✰✰✰✰✰✰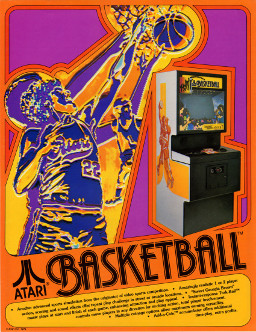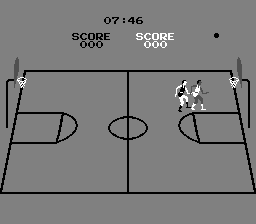 Beschreibung / Werbetext (englisch)
---
"Sweet Georgia…"

The coin drops, the start button simultaneously activates the familiar "Sweet Georgia Brown" and the "jump ball". The crowd cheers, the players square off to get the ball on the tip-off… and the play is on!
Each player controls his man – dribbling left, right, forward, back – angling for the best position to shoot and score. The crow cheers each time a basket is made.

Control, the name of the game!
---
Konsolen- und Computerumsetzungen
---
▶ Baket (Atari 2600, Age)
▶ Basket (Atari 2600, Mega)
▶ Basketball (Atari 2600, Atari)
▶ Basketball (Atari 2600, Beagle Brothers)
▶ Basketball (Atari 2600, Canal 3/Intellivision)
▶ Basketball (Atari 2600, Choplifter/Space Harrier)
▶ Basketball (Atari 2600, Digitel)
▶ Basketball (Atari 2600, Dynacom)
▶ Basketball (Atari 2600, Funvision)
▶ Basketball (Atari 2600, Genus)
▶ Basketball (Atari 2600, Prom)
▶ Basketball (Atari 2600, Supergame)
▶ Basketball (Atari 2600, Tiger Vision/Eram)
▶ Basketball (Atari 2600, unbekannt)
▶ Basketball (Atari 2600, Video Jogo/Video Mania)
▶ Basketball (Atari 2600, VGS)
▶ Basketball (Atari 2600, Videospot)
▶ Basketball (Atari 2600, Wide Vision)
▶ Basketball (Atari Cosmos Holoptic Game, Atari)
▶ Basketball (Atari XL/XE, Atari)
▶ Basketball (Sears Tele-Games Video Arcade, Atari/Sears, Roebuck and Co.)
▶ Basketball (Unimex-Atari VCS800, Atari/Unimex Micro Electronics)
▶ Basketbol (Atari 2600, Me-Ta Elektronik Endüstri)
▶ Baskett (Atari 2600, Digivision)
▶ Baskett (Atari 2600, Play Video)
▶ Baskett (Atari 2600, Softvision)
▶ Basquet (Atari 2600, EDU Games)
▶ Basquete (Atari 2600, Atari Eletrônica/Cartucho Programa)
▶ Basquete (Atari 2600, Play Video)
▶ Basquete (Atari 2600, Splice)
▶ Basquetebol (Atari 2600, Vidgame)
---
Weitere Titel der Reihe
---
▶ Atari Baseball (Arcadespiel, Atari)
▶ Atari Football (Arcadespiel, Atari)
---